PDA Congress 2015 - Multi-Disciplinary Approach in Dentistry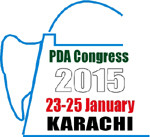 The Congress will be held at the Karachi Expo Center from 23-25 January under the Chairmanship of Dr Asif Arain while Dr Ali Farhan is the Congress Secretary. The Congress that has been organized as a joint venture by the Pakistan Dental Association Karachi, and Pakistan Dental Association Sindh with Dental News as the official media management partner and Freshlogic Enterprises being the technology partner.
Allow us to guide you through ways in which you can interact with the rest of the dental community, participate in the Congress by exhibiting your talents, attend highly informative lectures, apply your dental knowledge practically during pre- and post Congress workshops, and become part of the greatest revolution in Pakistan dentistry. You can also engage with members of the dental fraternity by using the official hashtag for the event #PDACongress15 on social media.
Examine, explore, experience and excel with PDA Congress 2015!